iflushednemo

Add iflushednemo as a friend

iflushednemo will be notified and will have to accept this friendship request, to view updates from iflushednemo and their ratings you must follow them.

Remove iflushednemo as a friend



About me
Hello. I am a big Old Hollywood lover and also a lover of music and the like. It would be impossible for me to function without either. Here I am sharing my love of my favorite things, including actors, music, and shows. I hope you like what you see. Add me if you wish or if we have anything in common.
Single
Lists
Recent reviews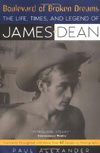 Posted : 12 years, 7 months ago on 17 June 2010 02:25 (A review of
Boulevard of Broken Dreams: The Life, Times and Legend of James Dean
)
This biography is so biased. Its all about Jimmy's suspected homosexuality, the author obviously is dead set in his belief that Jimmy was gay. He gives all these arguments for, and argues against Jimmy's "supposed" female lovers.

0 comments,
Reply to this entry
Movies
TV
Games
Music
Books
DVDs
My feed
Comments